Dr. Chris M. McDaniel, D.C., C.C.E.P.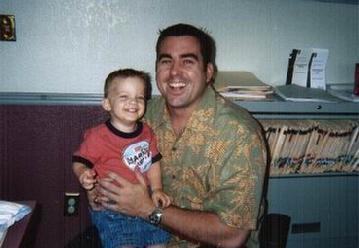 My patients and I are always smiling!
Please allow me to tell you a little bit about myself.
I was born in Kentucky, but grew up in Scottsdale, graduating from Horizon High School in 1992. I then moved home to Kentucky, where I attended the University of Kentucky, graduating in 1997 with a Bachelor's Degree in Psychology.
After also completing the pre-med requirements at UK, I attended Life University-College of Chiropractic in Atlanta, Georgia, graduating in the Spring of 2001. While at Life, I was extremely involved with student government, and was lucky enough to be the Class President the entire four years.

During my education, and especially now that I am in practice, I have attended numerous seminars, ranging from nutrition to rehabilitation including various Chiropractic techniques, all to further my knowledge in the field of natural healthcare.

I received my P.T. certification in Chiropractic Adjunctive Physiotherapy in June 2001, and I hold certifications through the American Red Cross in C.P.R., First Aid, and Basic Disaster Relief.

In December 2001, I completed my requirements as a Certified Chiropractic Extremity Physician (C.C.E.P.), which includes; extremity adjustment techniques, rehabilitation therapy, joint taping and bracing, muscle testing and the importance of custom orthotics for both functional and structural problems. This is a full body protocol (spine and extremities) designed and certified through the Council on Extremity Adjusting. The degree is very specialized, held by only a few hundred physicians world-wide, and In the State of Arizona, only one other Chiropractor holds this distinction.

I am a trained iridologist, therefore, long with a thorough orthopedic, physical, and neurological exam I use the ancient science and art of Iridology, to properly assess and care for each patient on an individual basis.

Memberships and Affiliations:
I am currently a member of the International Chiropractic Association, The Council on Extremity Adjusting, The Life University Alumni Association, The World Wildlife Fund, The National Geographic Society, The Coral Reef Foundation, the Arizona Parrothead Club, and The Phoenix Zoo. I am also a Lifetime Member of the following organizations; The Phoenix Scottish Rite Bodies, The Scottsdale Masonic Lodge, the National Rifle Association, and the UK Alumni Association. For local fun, I am the current President of the Arizona chapter of the UK Alumni Club, and am also a FELLOW of the University. Go Blue!

In my spare time, I enjoy scuba diving, snow skiing, golfing, college and professional sports, movies, movies and more movies, anything dealing with Jimmy Buffett and writing whenever I can. The office even once sponsored a semi-pro Race car (check out the photo on the Contact Us page). Lately, I have been focusing all of my extra time on a few passion projects that keep me busy. Inventing, writing, and now, a new venture in an Indie Record label/ Film production company called Semi-Rebellious Films. Wish me luck!
© Copyright 2018
All Rights Reserved.